Matthew Knight Arena Information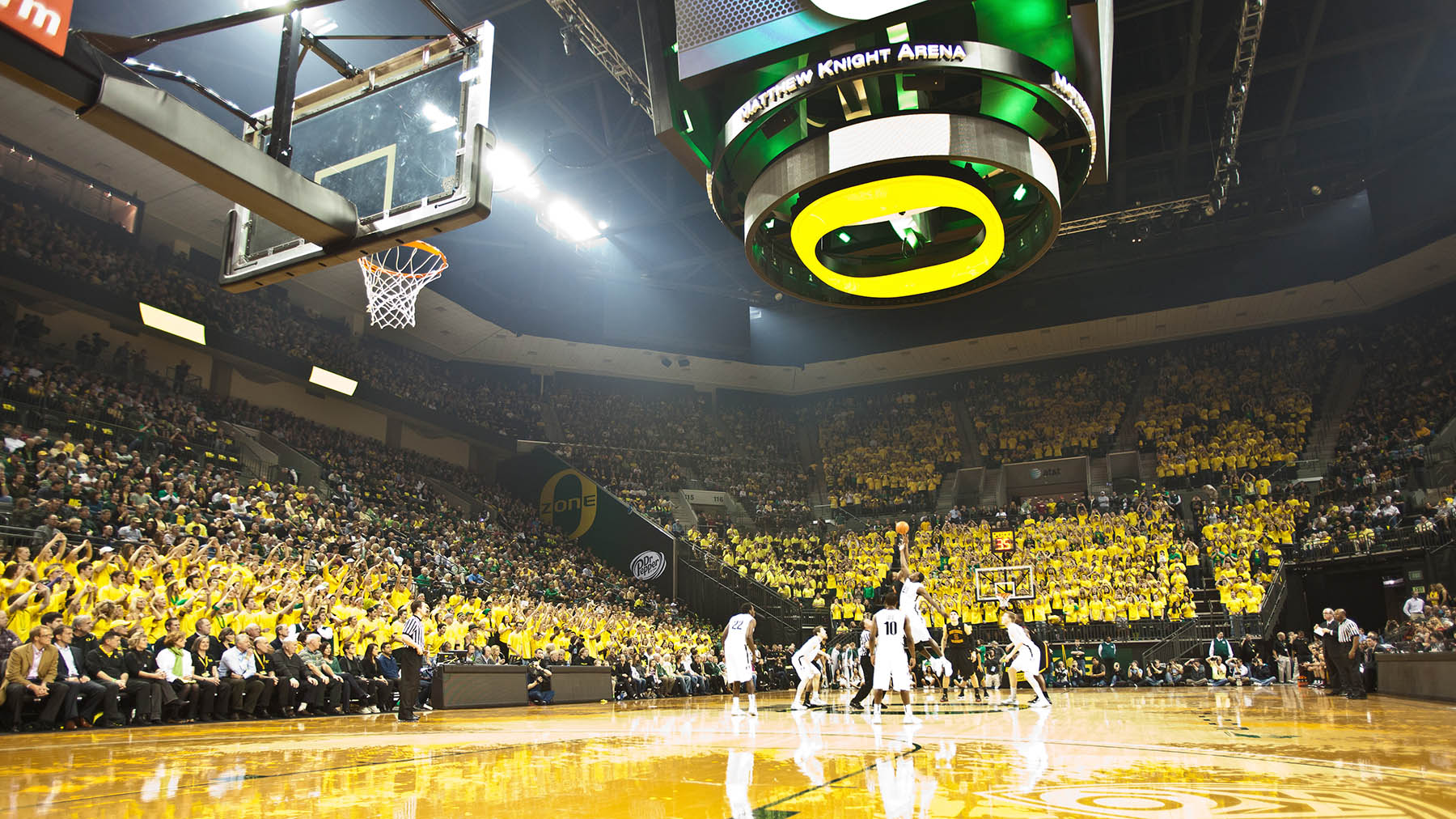 The Matthew Knight Arena is a 12,364-seat multi-purpose arena in Eugene, Oregon. It is home to the University of Oregon Ducks basketball teams and replaced McArthur Court, their former home. It is located on the east side of the campus at the corner of Franklin Blvd and Villard St, which also serves as a gateway to the campus for travelers coming from I-5.
The arena was originally intended for an opening during the 2010-11 basketball season, but it instead opened for the men's basketball game against the USC Trojans on January 13, 2011.
The arena is named for chief donor Phil Knight's son, Matthew Knight, who died at the age of 34 in a scuba diving incident.
It's inaugural game was played to a sold-out crowd when The Ducks defeated the USC Trojans 68-62.
Arena Details
The arena floor is named Kilkenny Floor after former Oregon Athletic Director Pat Kilkenny. The design, called Deep in the Woods, features a repeating silhouette pattern of Pacific Northwest tree lines to give the impression of being lost in the forest gazing to the sky. The floor was designed by Tinker Hatfield, Nike's VP of Creative Design, who intended to design an iconic television presence that would put Oregon on the map, while also honoring the "Tall Firs". The "Tall Firs" was the nickname of the 1938-39 Oregon Ducks men's basketball team, winners of hte inaugural NCAA basketball championship.
Another feature of the arena is a 32-by-36 foot center hung scoreboard, which was once the largest in college sports. It contains four 20-by-12 foot LED monitors and is connected to the ceiling by intersecting "O" logos.
Initially, the design lacked a center court line, but one has since been added after the criticism.
More Matthew Knight Arena at University of Oregon information:
Ticket Policy:
Click here for our recommended ticket marketplaces ticket policies and information on authenticity guarantees.
Seating Map:
Click here for the Matthew Knight Arena at University of Oregon seating map and different seating sections.
Parking Information:
Click here to read about the Matthew Knight Arena parking arrangements.