Matthew Knight Arena Seating Chart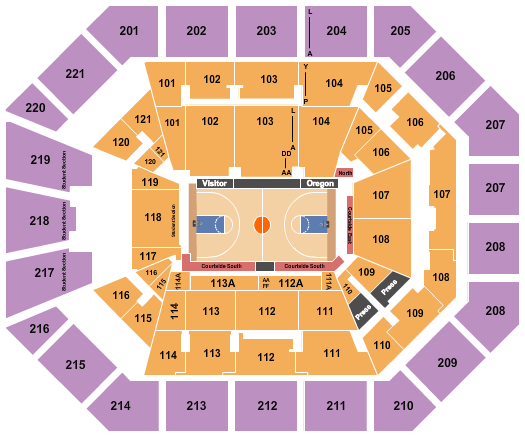 Matthew Knight Arena is an indoor multi-purpose arena. At its largest formation, it has room for 12,364 fans in cushioned seating arranged around the court. All seats have excellent sightlines to the action as well as exquisite acoustics so you can clearly hear what's going on.
As a multi-purpose arena, the number of seats available may change depending on the event on stage. Please refer to the event description or call the venue at the number below.
Matthew Knight Arena strives to provide a fully accessible environment for all its guests. Wheelchair accessible and aisle transfer seating are available at various price points and locations, including the main and upper seating bowls, as well as floor level*. Matthew Knight Arena also offers enhanced accessibility for guests with limited seeing or hearing impairments and for guests who are deaf, hard of hearing or blind. Accessible seating, assistive listening devices, and printed material in alternative formats are some of the many accessibility features of the Matthew Knight Arena.
If you have questions regarding the venue's policy for accessibility seating or any necessary accommodations, please call the venue at (541) 346-4461.
The attached photo is what you can expect from event seating.
NOTE: Matthew Knight Arena at University of Oregon seating arrangements may vary. Different types of events may have different seating arrangements. It is recommended you check the individual event seating chart when selecting your tickets.
Grab your tickets today and select your best seats. Check out the Matthew Knight Arena schedule to see all the upcoming announcements and latest events.
For policies and ticket guarantee info, please see the ticket information page.